Name: Dionea
Age: 13
Gender: Female
Sexual Orientation: None
Race: Elf
Family: Older Sister Mermello
Background: A depresses child raised in the woods with her sister off of nothing but survival. She is very pessimistic and has a negative aura around her that tends to effect her making friends. One day she was possessed by a demon known as Atrax. She switches imbetween Atrax and Dionea but while one is in control the other has no effect on the world. They share a telepathic bond and can communicate even when te other is in control. She is nice, just negative, and only wants to make a few friends. Her negative aura and Atrax tend to get in the way of that. She uses plant magic, loves plants, loves insects and spiders, yet HATES animal life.
Personality: Nice, Pessimistic, Depressed, Negative
Boyfriend Girlfriend Mate spouse: None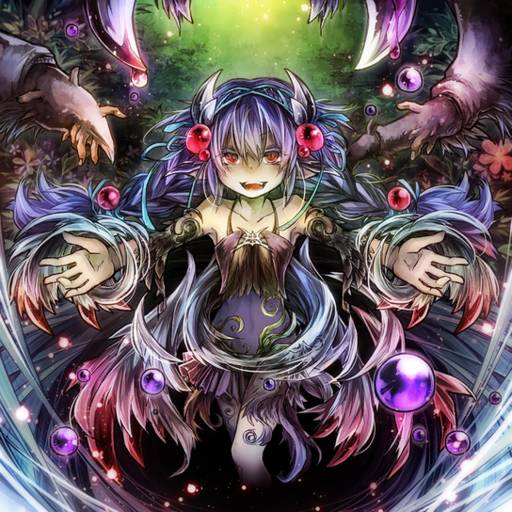 (only while atrax is in control)
Name: Atrax
Age: 245 yet stays the age 13
Gender: Female
Sexual Orientation: Bisexual
Race: Demon
Family: None
Background: A demon that died long ago. She possesed Dionea only to feel what life feels like again. She is pure evil, yet enjoys suffering and pain more than death itself. She doesnt, however, want Dionea to be hurt, for that would hurt her too. She also has plant control and she has some sort of effect on insects, and also hates wildlife. She has a natural negative "stay away from me" effect on people. She, taking the body of Dionea, has the strength and speed of an elf, because she literally is physically an elf. She, unlike Dionea, does not like people and wants them to stay away from her. She tends to kill or mame Dioneas friends (if she gets them) all except for her sister.
Personality: Sadistic, Evil, Negative, Dark
Boyfriend Girlfriend etc: None



Posts

: 443


Join date

: 2014-07-15


Location

: I'm a nomad (current location buffalo, new york)



Admin




Posts

: 1026


Join date

: 2014-05-05


Age

: 26




---
Permissions in this forum:
You
cannot
reply to topics in this forum