Name of Power: Jagan Eye Mark III
Image of what it does:
Strengths: Jagan Eye grants immense fire-resistance. Upon tasting a soul it learns the souls origin, the owners powers, family, and final thoughts before consumption. His eye is used to bring him exact precision and allows him to use clairvoyance and see things over 20Kilometers away.
weaknesses: Unaware at what the weaknesses are for spell stolen, person must be dead; if they revive the power is lost. Eye must be revealed to store the soul. Eye grows hungry and may lead into a violent uproar, often turning down mercy upon demons due to his history. The eye IS however willing to spare anyone offering it a part of their soul.
Name of Power: Storm King Armor
Image of what it does: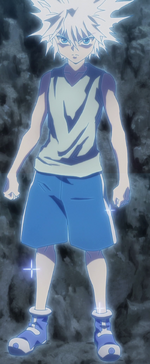 Strengths: Kouga taps into the depths of his strength through his Jagan eye and glows with a small spark. It allows him to recreate quick impulses and sharp reflexes. The speed is all in reflexes, it only moves as fast as his opponent would move (unless they surpass lightning). Meaning his reflex scales to the opponents attack. As fight progresses he may be quicker until the battle is over.
weaknesses: Jagan eye open, blindspots are it's weakness as the jagan cannot see itself there. Cannot be forced max power. He won't increase reflexes if his opponents are not the agile/9000 punches per second kinda guy.
Name of Power: Holy Power
Image of what it does: Passive muscle work underneath the skin gained over years of training as Angel Arms-master in training
Strengths: Kouga possesses natural strength, speed, dexterity, and accuracy. His focus had been on endurance and durability, growing stronger after each battle.
weaknesses: This was trained due to his lack of magic; excluding his family Curse which is seen as a weapon. Leaves him susceptible to everything magic same as any other person.
Last edited by Kurei Natsumori on Sat Jul 19, 2014 11:49 pm; edited 1 time in total



Posts

: 190


Join date

: 2014-06-05


Age

: 22


Location

: . . .under your bed. . .



Mark 3- no it's not flying with me rework it.

Storm king armor- a bit more knowledge on what type of reflexes and speed of them.



Posts

: 689


Join date

: 2014-06-08






Posts

: 190


Join date

: 2014-06-05


Age

: 22


Location

: . . .under your bed. . .




---
Permissions in this forum:
You
cannot
reply to topics in this forum